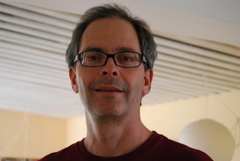 Our ISE researcher Lars Fuglsang has now taken up the task as professor in service innovation here at the Department of Communication, Business and Information Technologies (CBIT) at Roskilde University. This means a new strengthening of our research group Innovation in Service and Experience (ISE).
Lars Fuglsang has been engaged with innovation and theories of this. He has joined many Danish and international research projects and PhD programs. Especially, he has done research on innovation in service companies and on systems of service innovation – both in the public and in the private sector. Furthermore he has been among the first to do research in experience, and he has been engaged in subjects of tourism. Lars Fuglsang has edited the book "Innovation And The Creative Process – Towards Innovation with Care", which was published at Edward Elgars publishing company in 2008.
The last couple of years, Lars Fuglsang has been a professor in service innovation at Høgskolen in Lillehammer in Norway, where he has joined the construction of a research environment and PhD program in service and experience innovation. Lars continues his association to Høgskolen in Lillehammer. In the ISE group he will contribute to develop further the theoretical and empirical work of the group to understand the processes of innovation in private and public service and experience economy and to make this knowledge available to companies, public institutions and other actors in society.