ISE-researcher Niels Nolsøe Grünbaum has together with three other researchers just published an article entitled "Industrial Buying Behavior Related to Human Resource Consulting Services" in The IUP Journal of Marketing Management.
The paper is based on a comprehensive exploratory study of Danish companies' purchases of HR consulting services, and provides detailed insight into the underlying factors of the decision process of relationship-building in the Business to Business (B2B) market concerning purchase of Human Resources (HR) business services.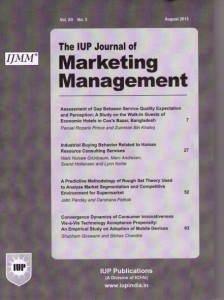 Through the study of Danish companies' purchases of HR consulting services, the paper looks at factors that determine how the Danish companies choose a consulting services supplier.

Personal relationships and participation
One of the surprising findings of the study is that the buying behavior is much less rational than has been presumed. It is for example revealed that "a consultant's personal relationship to customers can often compensate for the consultant's lack of knowledge."
The finding of importance of the personal relationship to customers suggests that consultants' development of long-term personal relationships like this is one of the most important key success factors in the consulting industry.
Another important finding of the study is that customers desire to a high extent to actively participate in the production of consulting services.
Importance of individual personalities
Another result is that "the most important relationship factors (determining the later relationship building phases and the selection of supplier) were found at individual level at the seller (individual consultant) and at group level at the customer company (HR department)."
This means that the individual consultant is the most important driver for the relationship building: "Somehow the individual consultant has overshadowed the brand of the consultant company."
As always avenues for future research are presented in the paper. It is thus suggested that a qualitative research strategy is undertaken to enlighten "the comprehensive importance of individual personalities and interpersonal interaction."
The full article can be purchased at the IUP Journal of Marketing Management's homepage. For more information, please contact Niels Grünbaum at grunbaum@ruc.dk.